JA Program Resources--Including Virtual Resources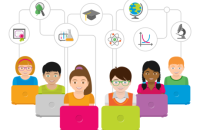 Learn More!
As a JA Volunteer, you'll be paired with a teacher in a classroom. This delivery method is an effective and popular way to show students a connection between the skills they are learning in the classroom and how they can get a more fulfilling career and life.
See Opportunity!
Click for program resources for JA of West Kentucky preferred programs. Please click on each program to find videos, "fillable" PDF's, and other important information.
Pillars of Student Success
Entrepreneurship:
High
Financial Literacy:
High
Work Readiness:
High
| Program Implementation | Program Grade-Level |
| --- | --- |
| 10.0.0.177 | Grades K-12 |
Program Resources