JA of West Kentucky Now Accepting Owensboro Business Hall of Fame Nominations
Author: Autumne Baker
Work Readiness
Published: Tuesday, 16 Jun 2020
---
Sharing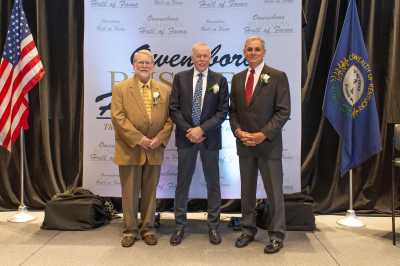 The Owensboro community is invited to submit honoree nominations for the 6th Owensboro Business Hall of Fame, Presented by German American Bank from now until July 17th at 5:00 pm. Nomination forms may be obtained by visiting www.OwensboroBusinessHallOfFame.org or the JA of West KY Facebook page to submit nominations. Inductees will be chosen by a distinguished local selection committee based on: Lifetime Achievement, Business Excellence, Entrepreneurial Spirit, Courageous Thinking and Action, Inspiring Leadership, Community Impact, and Service as a Role Model.
This powerful event is set to take place on January 21, 2021 and will honor the best in business, inspiring the next in business. The 2021 honorees will join the ranks of the following past Owensboro Business Hall of Fame inductees: John G. "Pete" Barnard (2020), Malcolm Bryant (2019), Roy Burlew (1997), L. Berkley Davis Sr. (2000), William M. Elmer (1997), Charles E. Field (1997), Carol Martin "Bill" Gatton (2000), Lawrence W Hager Sr. (1998), Michael E. Horn (2020), Morton J. Holbrook Jr. (1998), Chris C. Reid (2020), W. T. Stevenson (2000), William H. Thompson (1998), and Terry Woodward (2019).
The annual luncheon benefits Junior Achievement of West Kentucky and its innovative financial literacy, work readiness, and entrepreneurship K-12 programs that inspire the next generation of leaders to navigate their path to the American Dream. At this year's event, more than 400 business and civic leaders will come together to honor 2021 honorees and to support Junior Achievement's K-12 programs and their work to annually inspire over 10,000 local students to be financially capable and equipped with the tools to manage risk effectively, solve problems creatively, and welcome opportunity in an increasingly complex modern economy.
About Junior Achievement of West Kentucky
Junior Achievement, through a dedicated volunteer network, provides educational programs annually for over 21,000 area students in grades K-12 that focus on business, citizenship, economics, entrepreneurship, ethics/character, financial literacy and career development. If you would like to become involved with JA, call the local JA office at (270) 684-7291 or visit the website at westky.ja.org.